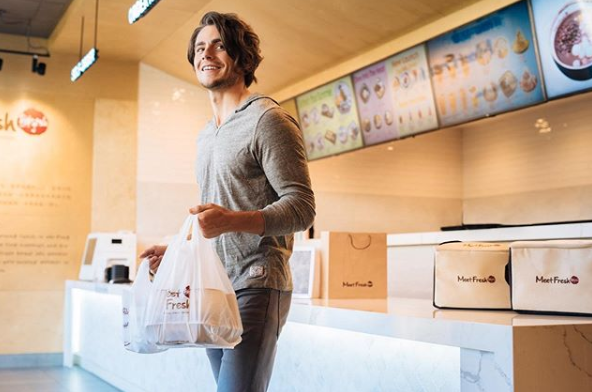 Your health is important to us and each of our Meet Fresh locations are cleaned and ready! Also, we are taking phone orders for pickup now!

Phone Order for Pickup is available at the following locations. We would also like to remind everyone that you can easily enjoy Meet Fresh Authentic Taiwanese desserts on the following food delivery platforms including:
Uber Eats, Doordash, Postmates, and more!
All Meet Fresh locations in the United States:
· Atlanta: 6035 Peachtree Rd, Atlanta GA 30360 / (678)691-9986
· Cerritos: 11900 South St, Ste 109 Cerritos, CA 90703 / (562)403-4220
· Chapel Hills: 407 Meadowmont Village Cir, Chapel Hill, NC 27517/ (984) 999-4983
· Chicago: 2026 S Clark St, Unit A&B, Chicago, IL 60616 / (312) 374-3005
· Cupertino: 19449 Stevens Creek Blvd #120, Cupertino, CA 95014 / (408)863-0277
· Daly City: 148C, Serramonte Center, Daly City, CA 94015 / (415)741-5421
· Denver: 1350 S Colorado Blvd #121, Denver, CO 80222 / (720) 389-7858
· East Lansing: 1034 Trowbridge Rd., East Lansing, MI 48823 / (517)220-4611
· Fremont: 43337 Boscell Rd., Ste P9-C, Fremont CA 94538 / (510)573-0785
· Hacienda Heights: 1697 S. Azusa Ave, Ste B, Hacienda Heights, CA 91745 / (626)581-3997
· Houston: 9393 Bellaire Blvd. #I, Houston, TX 77036 / (832)582-5994
· Irvine: 2710 Alton Pkwy, Ste 105, Irvine, CA 92606 / (949)955-9236
· Katy City: 23119 Colonial Parkway, Building B #13, Katy TX 77449 / (832)437-7510
· Las Vegas: 3930 Spring Mountain Rd, Las Vegas, NV 89102 / (702) 478-9188
· Manhattan: 37 Cooper Sq, New York, NY 10003 / (646) 371-9011
· Oakland: 362 8th St., Ste C, Oakland, CA 94607 / (510)250-9438
· Plano: 111 W Spring Creek Pkwy, Plano, TX 75023 / (702)478-9188
· San Diego: 9420 Mira Mesa Blvd, San Diego, CA 92126 / (858)566-8098
· San Mateo: 277 S B Street, San Mateo, CA 94401 / (650)513-1416
· Seattle Bellevue: 15552 Lake Hills Blvd, Ste F5, Bellevue, WA 98007 / (425)449-8748
· Seattle Southcenter: 724 121 Southcenter Mall, Seattle, WA 98188 / (206)695-2926
· Temple City: 9055 Las Tunas Dr, Ste 100, Temple City, CA 91780 / (626)537-1715